10. Cristiano Ronaldo
Premier League Goals: 18
UEFA Champions League Goals: 6
Premier League Assists: 3
UEFA Champions League Assists: 0
2 Premier League Player of the Month Awards:
September, 2021
April, 2022
9. Ciro Immobile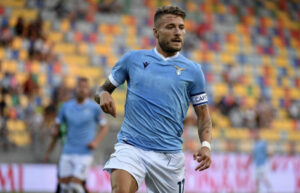 Serie A Goals: 27
UEFA Europa league League Goals: 4
Serie A Assists: 2
UEFA Europa League Assists: 1
Most Goals in the Serie A
8. Alisson Becker
Premier League Clean Sheets: 20
Champions League Clean Sheets: 4
Most Clean Sheets in the Premier League (tied with Ederson)
FA Cup and Carabao Cup Champion
7. Vinicius Jr.
LaLiga Goals: 17
UEFA Champions League Goals: 4
LaLiga Assists: 10
UEFA Champions League Assists: 6
1 LaLiga Player of the Month Award:
November, 2021
UEFA Champions League, LaLiga and Supercopa de España Champion
6. Christopher Nkunku
Bundesliga Goals: 20
UEFA Champions League and Europa League Combined Goals: 11
Bundesliga Assists: 13
UEFA Champions League and Europa League Combined Assists: 0
4 Bundesliga Player of the Month Awards:
October, 2021
February, 2022
March, 2022
April, 2022
DFB-Pokal Champion
5. Son Heung-Min
Premier League Goals: 23
UEFA Europa Conference League Goals: 1
Premier League Assists: 7
UEFA Europa Conference League Assists: 1
Most Goals in the Premier League (tied with Mohamed Salah)
4. Kylian Mbappé
Ligue 1 Goals: 28
UEFA Champions League Goals: 6
Ligue 1 Assists: 17
UEFA Champions League Assists: 4
Most Goals in the Ligue 1
Most Assists in the Ligue 1
1 Ligue 1 Player of the Month Award:
February, 2022
Ligue 1 Champion
3. Robert Lewandowski
Bundesliga Goals: 35
UEFA Champions League Goals: 13
Bundesliga Assists: 3
UEFA Champions League Assists: 3
Most goals in the Bundesliga
Bundesliga Champion
2. Mohamed Salah
Premier League Goals: 23
UEFA Champions League Goals: 8
Premier League Assists: 13
UEFA Champions League Assists: 2
1 Premier League Player of the Month Award:
October, 2021
Most Goals in the Premier League (tied with Son Heung-Min)
Most Assists in the Premier League
FA Cup and Carabao Cup Champion
1. Karim Benzema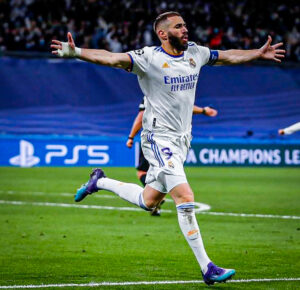 LaLiga Goals: 27
UEFA Champions League Goals: 15
LaLiga Assists: 12
UEFA Champions League Assists: 1
Most Goals in the UEFA Champions League
Most Goals in LaLiga
2 LaLiga Player of the Month Awards:
September, 2021
April, 2022
UEFA Champions League, LaLiga and Supercopa de España Champion